We look forward to see you in our restaurant with summer terrace. In addition to the great a la cart menu, we are regularly going to offer you a degustation menu with wine pairing. In summer you can look forward to chateau barbecues and we plan weekend brunches all year round. We provide our own catering for private and corporate events held at the chateau.
Our chef is a top chef - Pavel Veltruský. In recent years, he had worked as an Executive Chef at the Signature Restaurant in Popůvky near Brno. Pavel has an extensive professional career, worked in the three-star Michelin restaurant Waterside Inn in England and as a personal chef of Julie Roberts.
Restaurant opening hours:
Thursday - Sunday 12:00 - 22:00
Contact to the restaurant:
Phone: +420 704 972 501
E-mail: restaurace@chateautrnova.cz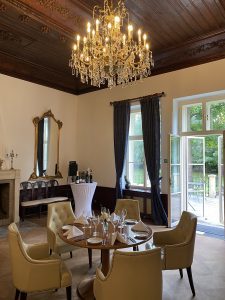 Restaurant Menu at Chateau Trnová
Starters and salads
Smoked salmon, thyme potato pancake, wasabi, sour cream, caviar, lettuce, 290,- CZK (4)
Beef tartare, homemade french fries fried in duck fat, lettuce, 280, - CZK (10)
Potato cappelletti with truffles, rosemary glaze, roasted mushrooms, roasted pumpkin, 340,- CZK (1,3,7,9)
Ceviche of Brook trout from the Punkva stream with citrus, 310,- CZK (4)
Nicoise salad, tempura tuna, 340,- CZK (4)
Caesar salad with chicken, 260,- CZK (3)
Caesar salad with shrimps, 290,- CZK (3)
Soups
Gazpacho, grilled shrimp, 165,- CZK (4)
Onion soup with balsamic, croutons and goat cheese, 125,- CZK (1)
Main course
Farm chicken with cream sauce, seasonal vegetables, 390,- CZK (7)
Grilled beef flank steak, mashed potatoes, roasted chanterelles, bordelaise sauce, 480,- CZK (7)
Lamb loin in herb crepe, seasonal vegetables, thyme glaze, 480,- CZK (7)
Grilled brook trout with grilled cauliflower, fava beans, sun-dried tomatoes, 390,- CZK (4)
Rabbit meat loaf, pointed cabbage, cider, white balsamic vinegar, wild broccoli, marjoram glaze, 450,- CZK (1,3,5,7)
T-bone steak, 190,- CZK / 100g (7)
Dry aged T-bone steak from Klouda farm in Moravia. Served with grilled vegetables, onion butter, veal glaze, shredded salad and baked new potatoes.
Desserts and cheeses
Apricot clafoutis, 185,- CZK (3)
Coffee foam with almond wafer, 165,- CZK (3)
Crème Brûlée, 165,- CZK (3)
Selection of homemade ice creams and sorbets, 50 CZK / scoop (3)
Variations of farm cheeses 100g, 190,- CZK (7)
LIST OF ALLERGENS - Cereals containing gluten - 1; Crustaceans - 2; Eggs - 3; Fish - 4; Groundnuts (peanuts) - 5; Soybeans - 6; Milk - 7; Nuts - 8; Celery - 9; Mustard - 10; Sesame seeds (sesame) - 11; Sulfur dioxide and sulphites - 12; Lupine - 13; Molluscs - 14