Experience restaurant in the castle
Taste a piece of the world at the castle. Accept the invitation to our experience restaurant. We have prepared a new one for you experience menu, where everyone can find something for themselves. We would also like to welcome Saturday lovers family lunches, Sundays brunches a breakfasts. Our goal is to make you feel at home. We offer a complete services for companies and corporate clientele. We will be happy to organize for you family celebration.
Tuesday to Friday 17:00 - 22:00
Saturday 12:00 - 22:00
Sunday 12:00 – 16:00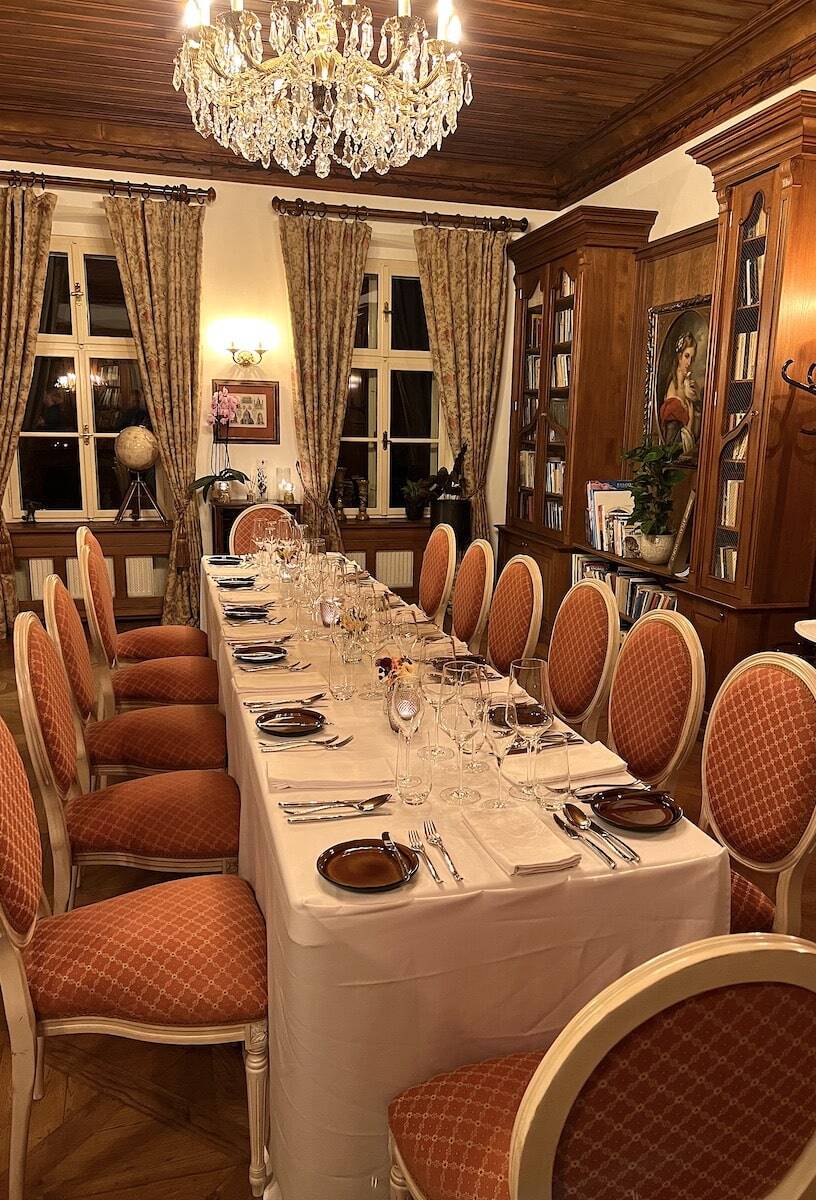 Christmas party at the castle
Complete services from A to Z for companies, including transport.
Including transport
Organize Christmas dinner in Chateau Trnova. We pick you and your employees up at your company. We'll bring you back. Chateau Trnová is just outside Prague. Only 22 km from the Dancing House. The offer is valid from Tuesday to Friday. The offer is valid for companies in the capital m. Prague and Prague West or by individual agreement. We also offer the option of returning to the Anděl metro station. The pick-up address must be accessible for the bus to arrive and stop. We look forward to you. We will take care of you from A to Z.
Experience Christmas Eve in Chateau Trnova. Ours is looking forward to seeing you on Saturday, December 24 Executive Chef Emanuele Mugnaini and our entire team.
Experience the fairytale atmosphere of our castle. We look forward to you.
Emanuele is from Italy. He now lives with his family in Prague. Emanuele has been cooking since 1990. In 1999, he became Chef of the "Cafè de Paris" in Prague. In 2000, he became Chef de cuisine "We like to cook" in the fine dining restaurant at the Hilton Prague. Since then, he has worked as Executive Chef in Prague, France and Spain in the Hilton hotel chains.
It is a great honor and joy for us that he became the chef at Chateau Trnová. Thanks to his many years of experience and culinary art, we can bring our guests not only tastier and healthier food fine dining concept, but also comprehensive services for wedding receptions, family celebrations, team building a corporate parties.
Visit the restaurant at the castle
Leave us your phone number and email. We will call you back ourselves.
Write to us at restaurant@chateautrnova.cz
Or call us at +420 704 972 501
Put Chateau Trnová in Google maps
Come to us. We cook with love. We look forward taking care of you.