Give a gift voucher Chateau Trnová
An ideal gift for anniversaries, holidays and birthdays.
Make your love, family, friends, business partners or employees happy.
Choose any gift online. We will send you a beautiful gift voucher online by e-mail. You will receive the voucher the same day. We can place an individual dedication on the voucher. If you need to compile a gift voucher individually or for several employees, write to us at sales@chateautrnova.cz. We are here for you.
Do you need to use Benefits?
Give the gift of a romantic stay at the castle
We will send you a beautiful gift voucher online by e-mail.

Give the gift of fairytale experiences at the castle near Prague. We take care of your comfort. Enjoy the romantic castle atmosphere. Recharge your energy in the castle wellness. Take a swim in the indoor pool. Make a plan massage. The prices are shown including the castle tax wellness and VAT. The standard validity of gift vouchers is 6 months. On request, we can extend it to 12 months. The gift voucher cannot be exchanged for cash or other services.
The castle hospitality includes unlimited consumption of food, selected teas and coffee for the entire duration of the romantic breakfast at the castle. Enjoy the fairytale atmosphere of our castle. Saturday and Sunday 8:00 - 10:30. Reservation required 24 hours in advance at restaurant@chateautrnova.cz.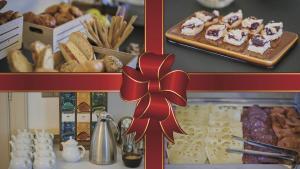 Gift a stay with any financial value
"We had a wonderful stay at Chateau Trnová. We booked a few nights to relax after a busy week exploring Prague. It was perfect. The Chateau is located in a quiet village on the edge of the countryside, but less than 30 minutes drive to the center of Prague or the main airport. At the time of booking, we did not realize that the reception would not be open exactly according to our needs. They very kindly accommodated us and opened the door for us to have a comfortable check-in. We appreciated that very much. The hotel itself was a haven for us to relax, with comfortable rooms in a peaceful and beautiful building with a fascinating history. We loved the pool and rooftop hot tub. The bar and restaurant were very cozy and pleasant. The food was fantastic. We enjoyed a plate of fresh fruit when we arrived at the hotel. The second evening we had an excellent dinner at the restaurant. We had an amazing breakfast every morning. We went home rested. The entire team at the Chateau are friendly, accommodating and make every effort to ensure their guests have a relaxing stay. An ideal place for a peaceful rest from everyday life." Liz, verified Google review on 11/12/2022